Got levels? For those of us who level books in our classrooms to best meet the needs of our readers at their independent and instructional levels, we tend to rely on a few sources to help us level the trade books found in our classrooms and school libraries. As a fourth grade teacher, I was constantly running to
www.lexile.com
in order to find Lexile levels for the chapter books that I was using in my book clubs and guided reading groups.
Lucky for me (and for those of you who level), the Level It app has made a solid and very useful appearance! This app was designed for the iPhone and iPod touch devices, but it also works pretty well on my iPad.
Not only am I able to find Lexile levels for a book, but a simple scan of the barcode also allows me to get Guided Reading levels (GR), DRA, and Grade Level Equivalency (GLE) levels.
I can also maintain my classroom library collection digitally and also check books out to students.
There is a teacher feature that also allows me to recommend books to my students and their parents. Again...very cool!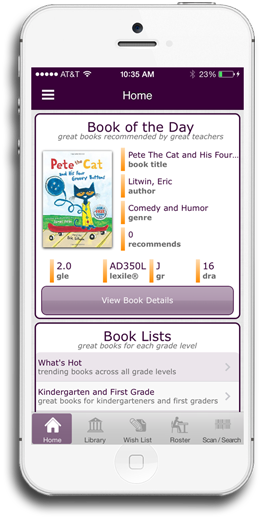 So what are you waiting for? Try Level It for yourself today!