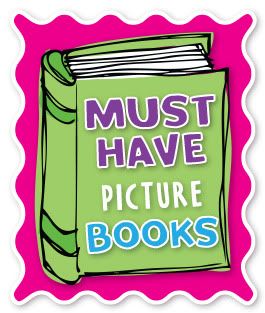 The Teacher Wife has a really great linky going on right now. She's asking teachers/bloggers to link up and share their TOP FIVE favorite picture books. All I'm thinking right now is "That's cool! I can't wait to share!" AND "Oh crap! I can only share five?"
Oh well...this is no slap in the face to all those terrific picture books out there...you are all wonderful. But...if I have to narrow it down to five, then here goes (in no particular order):
1. Hooray for Diffendoofer Day! by Dr. Seuss, Jack Prelutsky and Lane Smith
All of us have felt the "pain" of standardized testing. Although I'm not sure this is really what the great Dr. Seuss had in mind, Prelutsky and Smith put such a timely spin on this tale that it has become a standard in my class prior to our state testing. Miss Bonkers and I share the same philosophy: teach kids how to think, and you put them at a distinct advantage not just on the test, but in life. I want to be Miss Bonkers when I grow up!
2. The Junkyard Wonders by Patricia Polacco
Polacco is, in my opinion, one of the greatest and most prolific storytellers in children's literature. Her willingness to share her own struggles with learning to read with her readers has made her a favorite of my students over the years. (We were fortunate enough to have Ms. Polacco visit our school a few years back and it was certainly an experience I will never forget!) This is a "teacher's book" in every sense of the word. Like Miss Bonkers in Hooray for Diffendoofer Day!, the teacher in this story is one I aspire to be like!
3. The Old Woman Who Named Things by Cynthia Rylant
What's not to love about a classy old lady who names every inanimate object from her chair, to her house, to her car? The illustrations add to this lovely tale of a lonely old woman who befriends a small brown dog. Her decision to NOT name the dog shows her fear of loss. Friends pass away and leave her lonely and guarded. This is truly my favorite Cynthia Rylant book!
4. God Bless the Gargoyles by Dav Pilkey
For all the "potty humor" that Pilkey can inspire, God Bless the Gargoyles is truly a standout in Dav Pilkey's lineup. At once stunning and sad, Pilkey weaves a beautiful, deep and dark poem about those who are misunderstood. I have a very difficult time reading this aloud as it is so breathtaking and heartbreaking. The artwork is dark and kind of Goth, but Pilkey also demonstrates his love of classic artwork with a nod towards Van Gogh's "Starry Night" and Edward Hopper's "Nighthawks" depicted in the book. A gorgeous, gorgeous book...
(FYI: Pilkey is a collector of gargoyles!)
(This final entry is a TIE...an absolute DEAD HEAT that even a flip of a coin cannot decide!)
5. 17 Things I'm Not Allowed to Do Anymore by Jenny Offill
Whether you are reading this book to yourself or to your students, you will find yourself shaking your head at the antics of the little girl in this book. Written in a "list format," this book is a terrific springboard for creative writing in your classroom. I love the mixed media approach Nancy Carpenter takes in the illustrations in this book. A very fun read indeed!
AND
The Sweetest Fig by Chris VanAllsburg
VanAllsburg is hands-down, my all time favorite author! It is so hard to narrow down my book choices without putting one of his picture books in the list! The Sweetest Fig has a villain that you love to hate! Bibot absolutely gets his "just desserts!" Ending with a signature VanAllsburg twist, this is by far one of his most satisfying tales!
Well...there you have it, my five six "Must Have Picture Books." Join up with this linky at The Teacher Wife. You'll be glad you did!